Several times a year, a delegation from agricultural translation agency AgroLingua attend events organised by AGRARTECHNIK, a leading media outlet and magazine trade journal for decision makers in agricultural engineering. The magazinejournal's publisher is also the organiser of the Landtechnische Unternehmersstage (Agricultural Engineering Convention) and the AGRARTECHNIK Summer Meet.

AGRARTECHNIK Summer Meet
Remko Custers (Sales & Account Manager) and Joseph van Kleef (Director) recently attended the AGRARTECHNIK Summer Meet, the first to take place since the start of the coronavirus pandemic. The event took place at Weingut am Stein in Würzburg, and provided a platform to entrepreneurs, decision makers and policy makers from the agricultural and agricultural engineering sectors.

Naturally, agricultural translation was one of the main topics of conversation with industry contacts; as a specialist, certified and approved agricultural translation agency, AgroLingua can call itself the European market leader.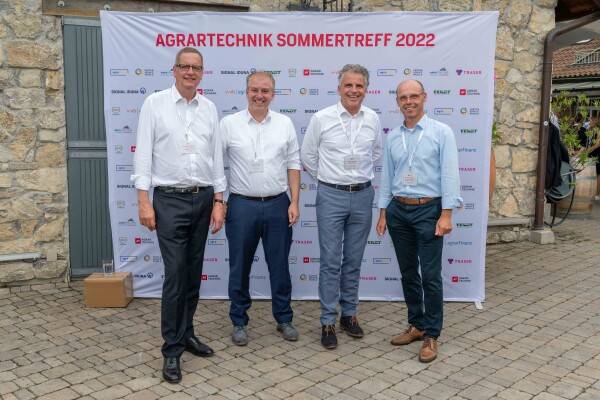 Christian Schmidt-Hamkens, Spokesman of the Management Board, Deutscher Landwirtschaftsverlag GmbH
Remko Custers, Sales & Account Manager, AgroLingua
Joseph van Kleef, Director, AgroLingua
Stefan Doseth, Head of the Trade and Industry Publishing Division, Deutscher Landwirtschaftsverlag GmbH

Partnership with Deutscher Landwirtschaftsverlag
AGRARTECHNIK; technikboerse, agrarheute; just a few examples of the many media outlets found in the sector, and all established print publications from our partner Deutscher Landwirtschaftsverlag. The strategic partnership with one of Germany's most important publishing specialists began in 2015, meaning approved certified translation agency AgroLingua is responsible for all agricultural translations and marketing translations for the UsedTecWorld platform.


Back to news